So, I've been taking it easy review-wise this week. I've been getting things ready for next week, because I won't be here, and have been particularly been lazy since Thanksgiving. Why?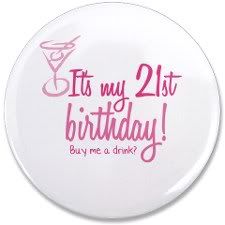 Because today (the 27th) is my 21st birthday! I'm officially 252 months; 1095 weeks; 7670 days; 184082 hours; 11044924 minutes; 662695445 seconds old today! (And no, I didn't do that on my own - my cousin messaged me that; I'm the mathematically challenged one in the family!) I can officially drink and get wasted... legally. ;)
I am a Thanksgiving baby. I was supposed to have been born on Thanksgiving in 1989, but apparently I didn't want to come out. So, Thanksgiving is my birthday every four years. It wasn't this year, of course. I think 2012 is the next one... ? Anyway.
For my birthday, I'm giving away a signed copy of
The Scorch Trials
by James Dashner. It was released last October 12, 2010 by Delacorte Press. Yep, one lucky person will win the sequel to The Maze Runner! If you haven't read the Maze Runner series, I highly recommend it. In fact, you can check out my review of The Maze Runner
here
. (Shameless advertising; it's my birthday, I can do what I want, right?) What the heck does The Scorch Trials have to do with my birthday, or any birthdays for that matter?
Absolutely nothing
. But it's a good book. ;)
- Only open to US/Canadian residents. Again, so sorry international folks - I'm way too poor to afford int. shipping. I'm so poor I can't even buy myself a celebratory drink for happy hour today. :(
- No PO boxes, please.
- Giveaway ends December 11 at 11:59PM PST.
- Must, must fill out the form! While comments are appreciated (especially the "happy b-day" ones!), I won't accept entries made from the comments.
This one is SUPER easy. All you have to do to get an extra entry is wish me a happy birthday
on the form
under the designated box. Since I'm feeling particularly happy today, I might add a second extra entry with how creative/mushy you get. ;)
Breaking it down in case I was confusing:
+1 Tell me happy birthday
+2 Creatively or mushily (it's a word now, dangit!) tell me happy birthday. :P
Now, before you think I'm lame for asking that/making it required, know that I'll be completely and utterly alone on my birthday. My entire family abandoned me, haha. So, I'll be in my room, wishing I could afford a drink, singing, "It's my party and I'll cry if I want to..." Lonely bookish hermits need some b-day love, too!