In My Mailbox is a weekly meme hosted by Kristi of
The Story Siren
with inspiration from Alea of
Pop Culture Junkie
.
The idea of IMM is to encourage blogger interaction and expose books to our readers' attention. You aren't limited to books that you've received via mail; you can also include books you've bought or checked out at the library.
---
For Review
: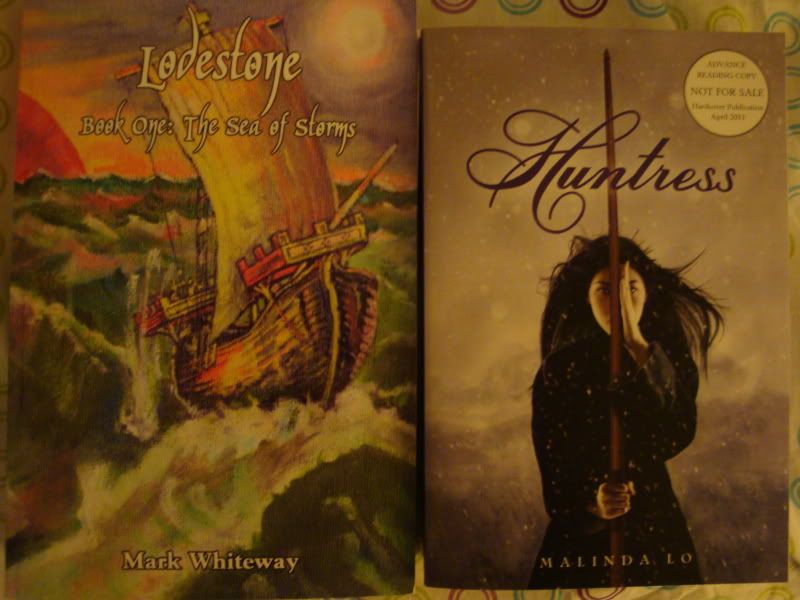 Lodestone Book One: The Sea of Storms
by Mark Whiteway
Huntress
by Malinda Lo
From Giveaways
:
Bloodhound
by Tamora Pierce [Randombuzzers]
Clockwork Angel
by Cassandra Clare [Steph @
Thoughts of a Book Junky
]
The Candidates
by Inara Scott [
Inara's
twitter contest - who knew my Dragonrider of Pern obsession would win me a book? :P]
The Ivy
by Lauren Kunze and Rina Onur [Kathy @
I Am a Reader, not a Writer
]
Karma Bites
by Stacy Kramer and Valerie Thomas [Steph @
Thoughts of a Book Junky
]
Also from Steph:
Awesome pop rocks (I ate them already and didn't picture them, but she gave me a 3-pack of pop rocks!)
A ginormous Halloween pencil
Comfy Halloween socks
A ghost whose eyes light up (hurts my eyes when I stare at it too long)
A karma bites bracelet (she never mentioned she was sending me this, so that was a nice surprise!)
A holographic OWL notebook. With OWLS. I was mesmerized shifting them back and forth.
Aaaand tons of swag that I forgot to picture and I'm too lazy to redo it, so you'll just have to believe me when I say it's awesome.
So what did you all get in your mailbox this week? ♥