The Book Blogger Hop is a weekly meme hosted by Jennifer @
Crazy-for-Books
. It's a chance for book bloggers to interact, make new friends, and most importantly, share their love of books!
This week's question is:
What's your favorite beverage while reading or blogging, if any? Is it tea, coffee, water, a glass of wine, or something else?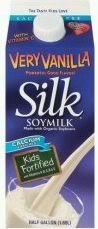 It depends on my mood, really. I'm not as big on caffeine as I once was and recently switched to strictly tea beverages. So if I want a kick in the morning, I'll grab a cup of tea. Or if it's cold while I'm reading/blogging. But other than that, just normal, plain ole water for me!
Oh, also, I have this strange affinity for drinking cold Very Vanilla Soymilk while I write reviews. I didn't actually think of it until now (since I'm in the middle of writing one!), but I can't write a review without it! If I had anything to thank for inspiration for my reviews, it'd be a nice cold glass of Very Vanilla Soymilk! :)