Hi guys! Please welcome our very first guest blogger, author Raven Corinn Carluk! Thank you so much for stopping by for a guest blog, Raven! :)
---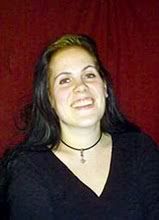 Hello everyone! I'm pleased that Kristina has let me come by to give you some info on nommable books. (Namely, mine.) Let me be your word chef today, and offer you some little appetizers to whet your novel appetites.
I write paranormal romances and dark fantasy. I like my vampires a little fierce, a little cold, and all predator. I root for monsters and the villains more than the heroes and the oppressed. If I had my way, more bad guys would win, and they wouldn't be taken down by farmboys if they do lose.
Being an author has been great, because I get to explore all those themes and differences I like. Love and happily-ever-after are great, but I love the dark ones. Lestat over Louis, Eric over Bill, Dracula over van Helsing. (And yes, I could probably make it a little more obvious that I love vampires. They are, through and through, one of my favorite characters to read about.)
Knowing I can't be the only person like that, I absolutely had to share my vision with the world. So I went with books. I love reading, love the worlds others bring to me; definitely time to pay it forward. Painting was great for me for a while, but you can use more of your imagination when reading a book.
All Hallows Blood
is my first book, my lovingly crafted vampire romance. In one of my Goodreads group, I was asked to sell the book in ten words. This is what I came up with: Psychic warrior joins forces with elder vampire to defend Portland. There's much more to the book, like my heroine Keila overcoming her debilitating depression, and fighting her lust for Varick when there are kids to save. And there's some hot sex, and awesome fights, and a kitten.
It's available through
Crescent Moon Press
, and (from my site) you can check out the
excerpt
, and even the
unpublished prologue
.
stories with bite o,.,o
is my foray into self-publishing. The publishing industry is (as I've discovered) a soulless machine that will hawk any product just to make a buck, regardless of quality or story. So I'm breaking free of it, and going my own way. It's a lot of work to be an author, and I don't want to be yoked to a dying beast.
So I gathered up a bunch of my short stories, and put them together. A few of them, like "Peace", are about a decade old. Lots of vampire bits, and elves, and dragons. There's even a vampire that's Alexander Skarsgard in my written form. (No, I'm not terribly subtle at times. Though any likenesses are purely coincidental.)
Making my own collection was fun, and I learned a lot. I feel a lot better about being able to offer it at a decent price. The ebook, anyway. Print on demand is pricey.
Those are my books, and the reasons you'd enjoy them. Check them out, let me know what you think. Because I'm definitely one of those authors that loves hearing back from their fans. (I think that's most of them, actually.) Even if you don't read them, and you just want to talk, that's cool too.
Just so you know, if you buy a physical book, you can email me and request a book plate. It's a little sticker that goes in the book, and I autograph it, and send it to you. Then you can have a signed book without having to hunt me down. (Unless you want to, because that's kinda cool.)
Normally, this is the bombard-with-contact-
information part. I'm not going to overwhelm you. I'll give you
my site
, and
my blog
too. I've got link sections on either one of them for if you want to connect with me elsewhere (Facebook, Twitter, Goodreads, etc).
I will recommend coming by my blog by the end of the month, and read up on the big giveaway I'm doing. There's a chance to win autographed copies of my books, and an anthology I'm in.