In My Mailbox is a weekly meme hosted by Kristi of
The Story Siren
with inspiration from Alea of
Pop Culture Junkie
.
The idea of IMM is to encourage blogger interaction and expose books to our readers' attention. IMM is a great way to spread the word of certain books that many readers may not have heard of. You aren't limited to books that you've received via mail; you can also include books you've bought or gotten at the library.
---
I was going to do a vlog for this weeks IMM but my video kept being weird and I couldn't figure out how to fix it in time. So pictures will have to suffice. :P
For the past two weeks, I got: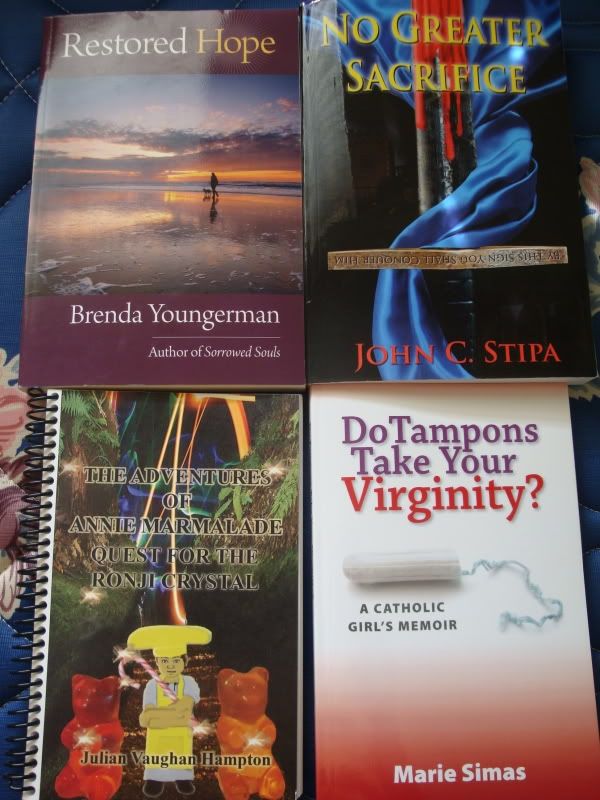 For Review
:
Restored Hope
by Brenda Youngerman
No Greater Sacrifice
by John Stipa
The Adventures of Annie Marmalade: Quest for the Ronji Crystal by Julian Vaughan Hampton
Do Tampons Take Your Virginity?
by Marie Simas
[not pictured; was given a .pdf copy]
All Hallows Blood
by Raven Corinn Carluk
[not pictured; was given a .pdf copy]
stories with bite o,.,o
by Raven Corinn Carluk
Thank you Brenda, John, Julian, Marie, and Raven! :)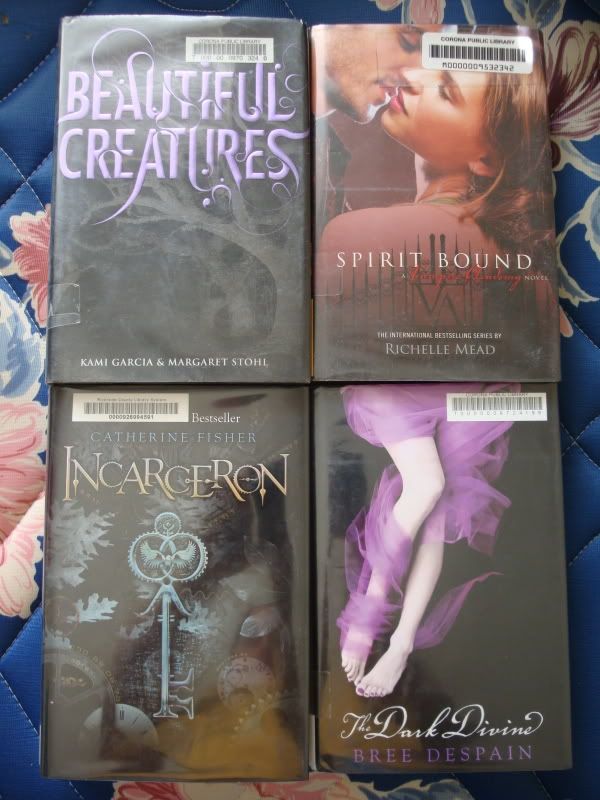 From the Library
:
Beautiful Creatures
by Kami Garcia and Margaret Stohl
Spirit Bound
by Richelle Mead
Incarceron
by Catherine Fisher
The Dark Divine
by Bree Despain
I was quite happy with my library haul this week -- Beautiful Creatures and the Dark Divine were my two top books that I've been trying to check out for a while. I was just returning my books one day and BAM! they were on the shelves. :P Cade from
Braintasia Books
recently told me about county libraries and putting books on hold, so that's how I got a hold of Incarceron (it's NEVER in my local library).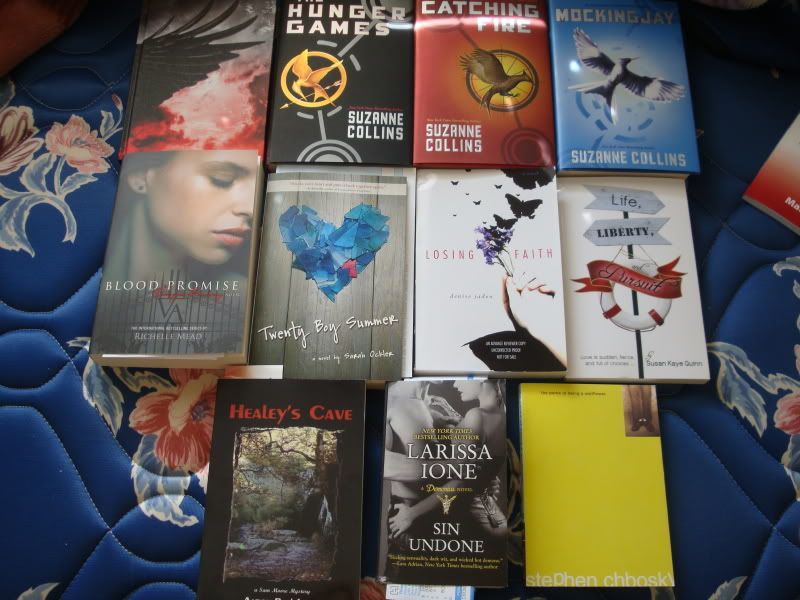 From Giveaways
:
A Hush, Hush inspired journal [Won from Aine @
Aine's Realm
]
The Hunger Games
by Suzanne Collins [Won from JL @
An Avid Reader's Musings
]
Catching Fire
by Suzanne Collins [Won from JL @
An Avid Reader's Musings
]
Mockingjay
by Suzanne Collins [Won from JL @
An Avid Reader's Musings
]
Blood Promise
by Richelle Mead [Won from Bea @
Bea's Book Nook
]
Twenty Boy Summer
by Sarah Ockler [Won from the
Debs of '09
]
Losing Faith
by Denise Jaden
Life, Liberty, and Pursuit
by Susan Kaye Quinn [Won from Susan @
Ink Spells
]
Healey's Cave
by Aaron Paul Lazar
Sin Undone
by Larissa Ione [Won from Jules @
One Book Shy
]
The Perks of Being a Wallflower
by Stephen Chbosky [Won from Tahleen @
Tahleen's Mixed-Up Files
]
I've already personally thanked you all via e-mail, but I'd like to thank you again for these books! :)
So, readers, what did you all get in your mailbox this week? :D