In My Mailbox is a weekly meme hosted by Kristi of
The Story Siren
with inspiration from Alea of
Pop Culture Junkie
.
The idea of IMM is to encourage blogger interaction and expose books to our readers' attention. IMM is a great way to spread the word of certain books that many readers may not heard of. You aren't limited to books that you've received via mail; you can also include books you've bought or gotten at the library.
---
The past two weeks, I got: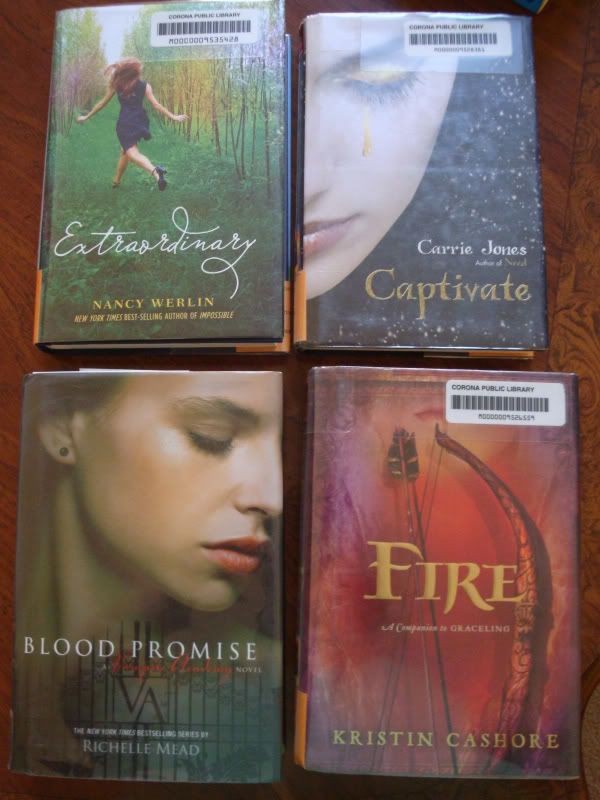 From the Library
:
Hex Hall
by Rachel Hawkins
Brightly Woven
by Alexandra Bracken
Raised by Wolves
by Jennifer Lynn Barnes
Frostbite
(Vampire Academy #2) by Richelle Mead
Shadow Kiss
(Vampire Academy #3) by Richelle Mead
Lament: The Faerie Queen's Deception
by Richelle Mead
Evermore
by Alyson Noel
Nick & Norah's Infinite Playlist
by Rachel Cohn and David Levithan
Extraordinary
by Nancy Werlin
Captivate
by Carrie Jones
Blood Promise
by Richelle Mead
Fire
by Kristin Cashore
I got into a mini-"fight" with another lady because I got to Raised by Wolves and Extraordinary (which were due and shelved the same day I went) before she did! She demanded I let her check them out, since she'd been waiting so long! It was nuts! She eventually left and I checked them out, but that's an example of how hard it is to get new releases at my library!
---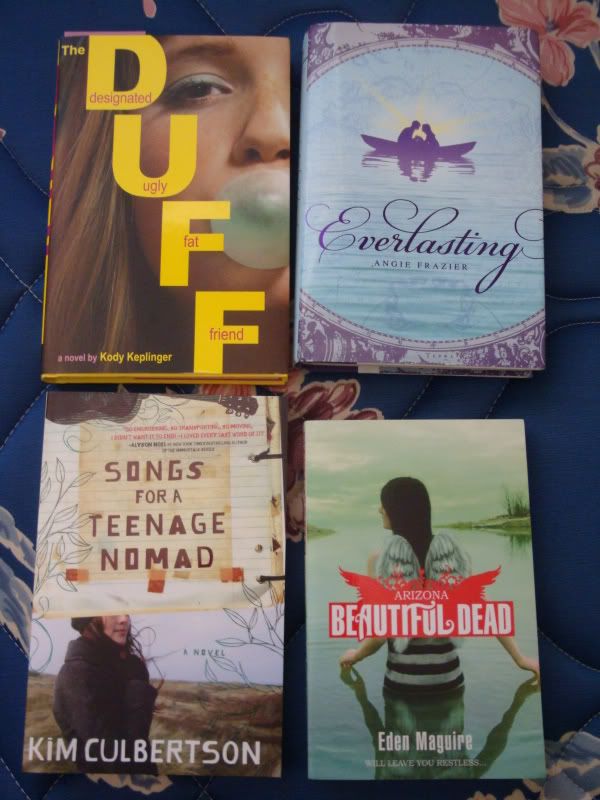 Won from Giveaways
:
The Duff
by Kody Keplinger [Won from Jordyn @
Ten Cent Notes
]
Everlasting
by Angie Frazier [Won from Stacy @
Page Turners Blog
]
Songs for a Teenage Nomad
by Kim Culbertson [Won from Michelle and Leslie from @
Books and Makeup
]
Arizona
(Beautiful Dead #2) by Eden Maguire [Won from Dianne Salerni @
In High Spirits
]
I've already personally thanked you all, but I'd like to thank you again for these books! :)
So fellow bloggers, what did YOU get in your mailbox this week? :)