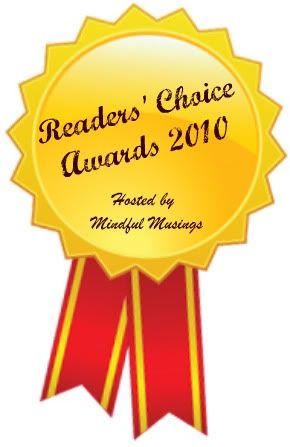 So, uh, wow! I just received word that I was selected to be on the ballot for Best New Blog for 2010! I knew I had been nominated (you know who you are - thank you, again! ♥), but I didn't fully know how these things worked so I got another shock when I was told I was on the ballot!
If you'd like to vote for me as the best new blog (or, heck, any of the other awesome blogs selected to be on the list), check out
Mindful Musings
. You can vote twice - once for Best New Blog, and once for Best Blog. The best part? You can get prizes just by voting!
Lastly, I hear that you get a free pint of Haagen Dazs for voting for Frazzled Book Nommer! You didn't hear it from me, though - I heard it from word of mouth. ;)
Kidding, but really, thank you to all of you guys! I appreciate all of your love and support - it's truly what drives me forward. I love you all, followers and stalkers alike! ♥