Julian Vaughan Hampton
is the author is numerous works of varying genre's, ranging from crime dramas to thrillers to children's fiction. He also writes screenplays and poetry. Julian was kind enough to stop by Frazzled Book Nommer to talk a little bit about his most recent book
The Adventures of Annie Marmalade: Quest of the Ronji Crystal
. It was a delightfully ingenious piece of children's fiction - you can read my full review of it
here
. Without further ado, please help me in welcoming Julian!
First of all, I'd like to thank you for agreeing to interview with me, Julian!
The people of Goodhaven all have individual gifts, sort of like powers. The main character, Annie, has the ability to make desserts, which is refreshingly unique. How did you come up with the idea of using desserts (like taffy lasso's) to replace ordinary objects?
It was enjoyable coming up with all of these fun and tasty weapons for Annie. When I thought about a little girl with a special gift, I wanted to have the perfect power to defeat her enemies. Her greatest gift is her imagination, so she uses that to create desserts to match the giants of Debor. I wanted children to connect to her power. I thought "What's more fun than using the one thing kids enjoy as a power?" I put Annie in difficult situations and looked for ways to get her out of them. Annie is one tough cookie.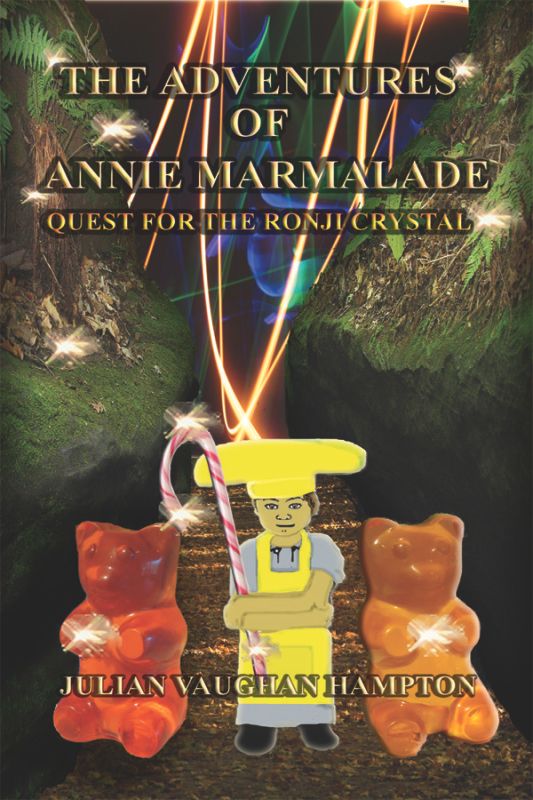 Annie was very brave in the face of danger and always thought outside the box. Was her personality influenced by anyone (a daughter, niece, etc)?
I took some aspects of each child that has been a part of my life. As adults, we are so worried about what people think. We are concerned about our children getting hurt or the consequences for the choices they make. With children, they just want to enjoy their lives. They see life as an adventure and they want to have as much fun facing the challenges within their lives. I was that way, so I created Annie to have that same vigor. To a child, one of the scariest parts of life is boring, so her brave nature was just Annie avoiding boredom.
Was it difficult writing about a little girl?
I focused on writing more as a child than a little girl. I had to take myself back to my childhood and the excitement I had within my small adventures. The fun came in the story when I needed to balance the enthusiasm of a child with the sensitivity of a little girl. Annie's movement from self-doubt to self-awareness is something most of us have faced as children.
Your other novels are completely different genre's, ranging from poetry to crime dramas to mystery. What made you decide to write a fantasy novel?
I didn't set out to write a fantasy children's book. I wanted to tell an exciting story with a new type of hero using a new form of heroism. The characters began to take on lives of their own. I try not to pick a genre. I'd rather start writing a story and when its completed, the genre will speak for itself. I love the thought of creating through imagination, which is a key element in fantasy. Whether its a poem, a crime drama, an adventure, a mystery, or a family drama, the key for me is to enjoy the story. I don't want to write fantasy for children. I'd rather write a fantastic story with the spirit of a child.
What was the hardest part about writing a children fiction book?
The hardest part was avoiding the boring parts of the book. With any novel, there are portions of the book that can slow the pace of the story. I wanted to avoid this by giving the children a fast-paced book that moves from one entertaining scene from another. I also wanted to teach some life lessons within the story. Children want to enjoy their books, but if I could subconsciously teach them morals, I knew the book would be successful.
What is your favorite children's book? Did you draw any inspiration from it?
My favorite children's books were a series called "Choose Your Own Path." These books allowed the reader to determine what road they would take to solve a mystery or complete an adventure. It also showed how the choices they made affected their ability to reach their goal. The books did inspire me within some of my books. In The Adventures of Annie Marmalade, I allowed Annie to make some of those choices, while the reader could look on the effects of her decisions.
Is there a message you want to convey to young children with your book?
I'd like children to value their gifts, whatever that gift may be. I'd also like them to know that no matter their size, they can be heroes to their community. The last message would be to use their imagination. The can create their success through it.
Do you have plans to make this book a series?
I have left that option open. I already have ideas in the works for the sequel, so I think Annie may have another adventure or two in her.
Are you currently working on any projects? If yes, can you tell us a little about them?
Since I write books and screenplays, my next projects are vastly different. I'm working on an inspirational family drama, a sports drama, and another childrens' book.
---
I personally hope that there
will
be a sequel (sequels?!) to Annie's adventures - I didn't want them to stop! A huge thank you to Julian for interviewing with me! :) Now, for the giveaway! Julian has generously offered to give away a copy of The Adventures of Annie Marmalade!
- Ends December 29, 2010 at 11:59PM PST.
- US and Canadian residents only.
- Must, must fill out the form! While comments are appreciated (and encouraged! you get some of Annie's desserts if you comment!), I won't accept entries made in the comments.
Spreading the Word Extra Entries:
(these are NOT required, but are definitely appreciated)
+1 for tweeting about the giveaway
+1 for posting a
thoughtful
comment on this interview.
To enter, fill out the form HERE.
---
Do you have more questions to ask Julian? Would you like a chance to meet him in person? Want to get your copy of The Adventures of Annie Marmalade signed? Well, awesome, because Julian's going to be doing a book signing on
January 15, 2011
at
2PM
! The book signing will be held at:
Next Chapter Bookshop
10976 N Port Washington Rd
Mequon, WI 53092